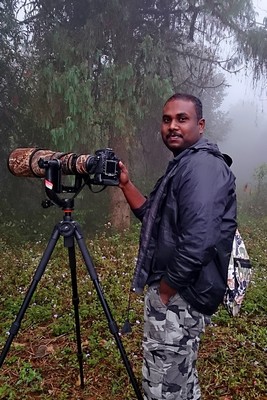 Welcome to my Online Portfolio of Nature Photography…
This is Sandeep Sasidharan; not a professional photographer, basically a Software Engineer from Bangalore, the IT capital of India. My intention to start this website is not just to publish my photographs, but to share my experience with mother nature. In fact, I wasn't passionate about photography before; It got ignited in late 2000s after getting my first camera and slowly became my passion and so important in my life.
I have started clicking with a point and shoot camera, Sony W230 which I bought in 2009 when I was in Canada. Initially I used to click just to show others that I have visited such places. I used to compare my pictures with others and really jealous sometimes that I am not able to take a shot like them. I thought it is the problem with my camera and I have upgraded my camera to Sony Hx100v first, again to a mid-range DSLR Sony Alpha 57 and now completely moved to Nikon systems.
It took quite some time for me to realize that the camera doesn't make much difference in my photographs. In fact it is not the camera; it is you who makes the difference. No matter how advanced your camera is; it can only capture what you are seeing. The less time you spend worrying about your equipment the more time you can spend creating good images. Just think what you can do the best from what you got.
Another mistake I used to do was, I often tried to apply all the rules which I have learned about photography and used to recreate the style of some professional photographs. Later I realised, every photographer has his own style and it is absurdity to imitate somebody. If it is not possible to apply all the the conventional rules of photography and if they are not helping you, don't just follow them blindly. Just try to copy what you see through your mind and make your own style to capture and it would be more than enough to create interesting images.
In my opinion, the best quality a nature photographer has to have is, patience and he should be lucky enough to be at the right place, right time with the right equipment. This is a passionate world in where you will feel the real internal bliss and believe me, you will enjoy each and every moment if you be with the nature. Well, I am not a right person to tell you all these, but I am trying to narrate my experience and perception. I will never say that my shots are artistically beautiful or competitive; but they depict my passion towards nature and wildlife. One thing I am sure, the more you click the more you will improve and the more you will get closer to the nature.
I had been very fortunate to travel a lot; but I feel that I have missed lot of precious moments in my life which never going to come again. Nowadays I used to carry my camera wherever I go and decided never miss a shot again. For me, every step towards the nature is a new experience; every new experience is a new learning. I love to continue my journey to admire the beauty of nature and learn more about the art of clicking…
About my Gears,
DSLRs
Lenses
Nikkor AF-S 500mm f/4G ED VR II
Tamron SP 150-600mm f/5-6.3 Di VC USD
Tokina 17-35mm f/4 AT-X Pro FX
Tamron SP AF 90mm f/2.8 Di VC USD Macro
AF Nikkor 50mm f/1.8D
AF-S DX Nikkor 18-55mm f/3.5-5.6G VR II
Nikon TC-14E II AF-S Teleconverter ( for 500mm lens )
Tripods
Vanguard Auctus 283AT with Gimbal-head
Benro A150EXU with Ball-head
Other Accessories
Cokin P series Graduated Neutral Density filter set
CPL, UV, ND2, ND4, ND8, Variable 2-400 ND filters
Conversion rings for the filters
Nikon shutter release (wireless)
I got lot of encouragement and support from my Parents and from my Friends, for which I would be thankful always. I will to continue my work as I would like to motivate people to protect nature and wildlife.
Please share your comments, suggestions or criticisms with me so that I can learn more and improve my skills. I would be happy to reply back with the best knowledge I have.
Thank you for visiting!
Sandeep Sasidharan